Rehearsal Room and Recording Studio
We're pleased to say that we are now able to take bookings for rehearsals once more.  We have COVID19 safe procedures in place including cleaning between sessions and disinfecting microphones and surfaces.  We have also gone fully cashless so please pay online when you make your bookings or bring card or phone for contactless payment.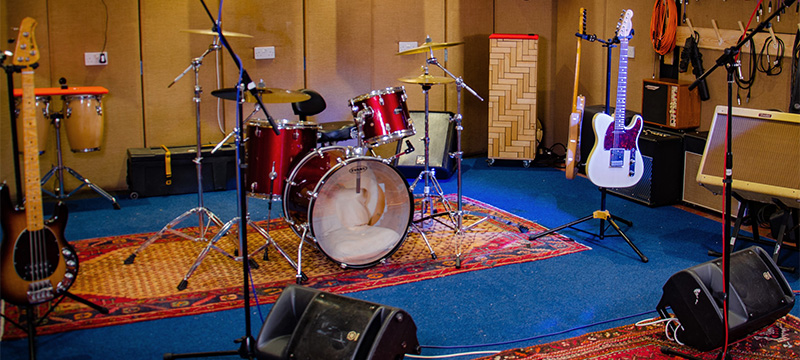 Walk-in, turn on, play.
With everything you need to rehearse, the Funky Bunker is the best sounding rehearsal room in the Three Counties.  Having a full PA with quality, mics, a 16 channel mixer, a punchy bass rig, various valve & solid state guitar amps and an enviable drum kit means you can stroll in with just your guitar and your drummer's breakables. 
We spent a lot of time making the room sound great.  With sound dampening specifically designed to eliminate standing waves, there are no parallel surfaces which means that you hear what you're playing without having to be mega-loud.  
But, don't take our word for it . . .
A pleasure.  As our bassist said last night 'so that's what we sound like!'  The sound in that room is superb.

Ade, Sunfire.
If you're looking for somewhere to rehearse, you've found it.  Book now to find out just how good a rehearsal room can be.  And remember, a band that sounds good in rehearsals, sound good live.  The Funky Bunker is the perfect place to perfect your sound.
The recording studio is based around a Presonus AI 32-4-2 for multi channel recording and has a decoupled control room and a bespoke vocal booth.  With free-standing baffles and tunable bass traps the recording room sounds fantastic – the perfect place to perfect your sound.  The studio facility is also designed to be ideal for television and video voice-overs, talking books, oral histories, pod-casts and radio commercial production.

LISTEN NOW TO FUNKY BUNKER RECORDINGS
Funky Bunker : rehearse, record, relax!